Lighthouse Tour
Lake Havasu is the only place in the world with a replica lighthouse program.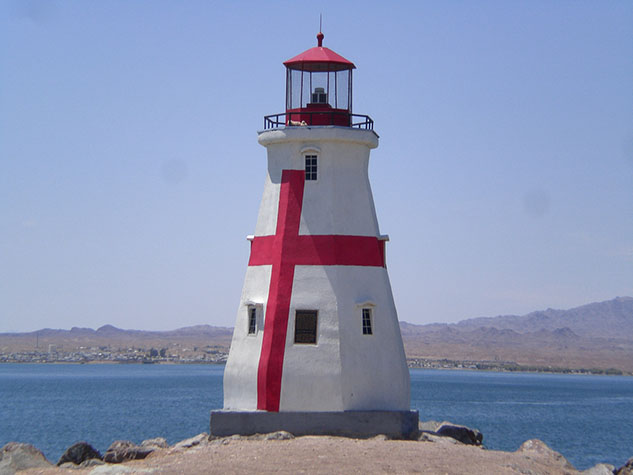 Currently, there are 28 replica lighthouses on Lake Havasu from the East and West Coast of the USA and the Great Lakes and is the only place in the world that can boast of having this replica lighthouse program. On the Lighthouse Tour, we will share the history and original location of 18 of the 28 replica lighthouses.  
We travel north from our docks through the Bridgewater channel into the North Lake Basin and head south around the Island and stopping along the way to see the lighthouses along the shoreline. We continue into the South Lake Basin, capturing the lighthouses on the California shoreline.  Our turnaround point is Pilot Rock and as we head back to our docks from the South we capture the lighthouses on the Arizona shoreline.  
We will also share the history of the Colorado River Valley, Lake Havasu City and the London Bridge. This tour includes the Copper Canyon Tour 
In 2000, the Lake Havasu Lighthouse Club was formed. A group of local boaters and artisans wanted to improve the navigational lighting on Lake Havasu. They pooled their talents, raised some money and started building  and installing working replica lighthouses around the lake. Today, all of the replica lighthouses on the Island are from the Great Lakes, those on the California side of Lake Havasu are replicas of West Coast lighthouses and those on the Arizona side of Lake Havasu are replicas of lighthouses from the East Coast.
We offer plenty of complimentary bottled water, but you are more than welcome to bring any other type of beverage with you and any lite snacks you prefer.
We recommend layering clothes for this tour, since it can get a bit cooler out on the water.   We also have heavy warm blankets on board should you need them to keep you comfortable.
Price
$60.00 Adults
$55.00 Child (12 and under)
Winter Schedule: October through May
Wednesday & Thursday 1:00 pm
Summer Schedule: June through September
Special Request & Private Charters Only
Call our Reservations Department to Discuss Availability & Reserve at 928-716-8687
Overview
2 Hours aboard Kon Tiki Canyon Cruiser
Fully Narrated
View over a Dozen Replicas of Famous American Lighthouses
Hear the History of Each and their Original location
Explore the North & South Lake Basins
See the Wildlife & Fauna
Great Photo Opportunities
Includes Copper Canyon Tour
Reservations Required
Testimonial
"Great Afternoon! Our Captain was so knowledgeable of the area & especially Lake Havasu! Lighthouses are impressive!" ~ Peter, Morton Grove, IL