Sunset Experience
The Most Popular & Unique Boat Excursion on Lake Havasu!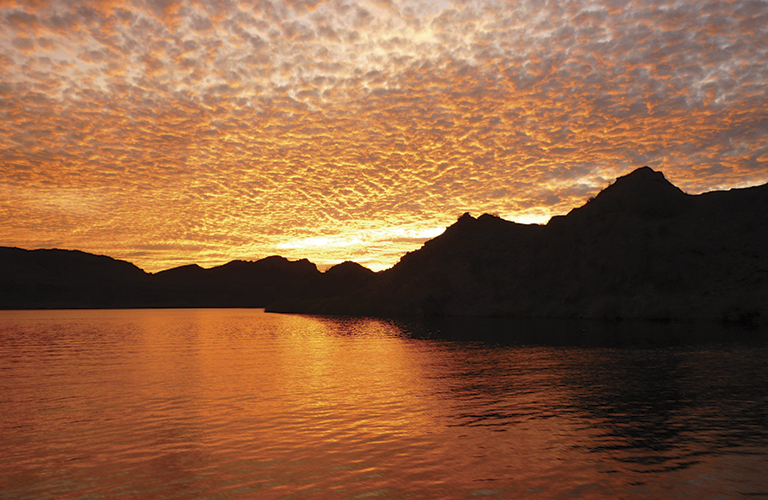 Sunset Experience is by far the most amazing way to explore Lake Havasu and the wonders of the Colorado River. Each day before sunset we launch Serenity Now and take six passengers for a ride of their lifetime. Join us to experience the grandeur of Lake Havasu, the backwater canyons and coves of Lake Havasu and the wildlife as they take their last water break before they bed down for the night.
Serenity Now, a custom built pontoon boat,  is our "limo on water" where you have unobstructed views of the landscape as the light changes from day to night. The comfortable seats, the smooth ride and the music that has been choreographed for the experience provides a peaceful and serene trip.
We take you on a 24-mile journey that starts and ends at our docks. We travel through Bridgewater Channel and into Thompson Bay as you learn the history of Lake Havasu City and its surrounding topography. We meander 12 miles into the South Basin of Lake Havasu and through the coves, inlets and canyons that make up this stretch of the Colorado River. We make stops at Copper Canyon and Steamboat Cove, all the while we will be in search for wildlife in the area. Wildlife that we might see include big horn sheep, burros, mule deer, coyotes and many species of waterfowl.
Our turn around point is the Sleeping Indian, a one-mile rock formation, resembling the silhouette of a sleeping Indian chief, and we share his story and his legend.
In the Summer Months, June through October we make a stop in Copper Canyon before heading back to our docks and we share the Aurora Lightshow with you. There are high powered lights underneath the vessel that reflect off the water creating a unique light pattern on the canyon walls mimicking the Aurora Borealis.
A compilation of classic tunes are playing throughout the excursion that are fitting for the experience.
We offer plenty of complimentary bottled water on the Sunset Experience, but you are more than welcome to bring any other type of beverage, even a small cooler if you like and any lite snacks you prefer. If you plan on drinking wine on board, please no stemware.  We have plastic cups if you need them. If you do need clean ice for any beverages or cocktails just let us know when you check in with us and will provide that for you.
In the winter, we recommend layering clothes, since it can get a bit cooler out on the water.   We also have heavy warm blankets on board should you need them to keep you comfortable.
In the summer, we recommend you dress comfortably with a hat, sunglasses and sunscreen. We do keep you out of the direct sunlight before the sun dips behind the mountain and we do have cool towels to keep you comfortable.
Overview
3 Hours Aboard Serenity Now
View Amazing Sunsets up Close and Personal

Learn the Story of the London Bridge & Lake Havasu City

Hear the History of the Colorado River Valley

Explore Canyons & Coves in the South Lake Basin

Witness Landmark Rock Formations

See the Wildlife & Fauna

Visit the Sleeping Indian and Hear the Legend

Experience the Aurora Light Show & Star Gazing in Copper Canyon (May through October)

Narrated & Compilation of Music

Great Photo Opportunities
Reservations Required
Testimonial
"More relaxing than you can imagine! We discovered the hidden beauty of Lake Havasu! Highlight of Our Winter!   ~   Cassie, Red Deer, Canada