Topock Gorge Experience
Topock Gorge is considered the Mini Grand Canyon of the Lower Colorado River!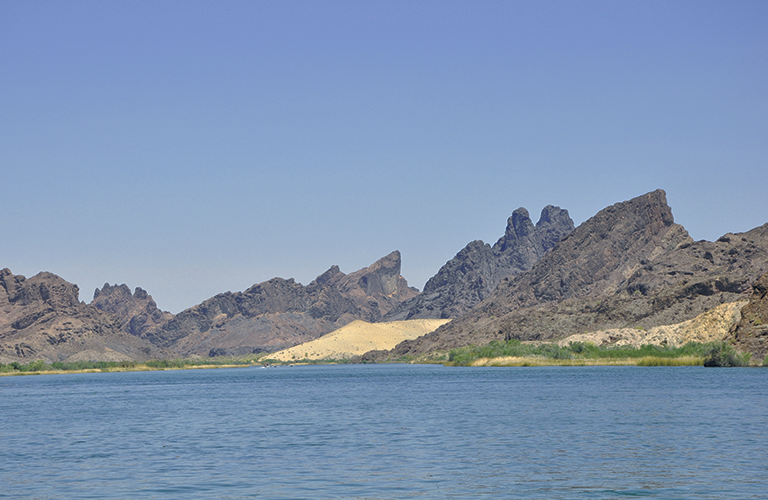 The best and only way to experience Topock Gorge is from the water. Nicknamed the mini Grand Canyon, Topock Gorge on the Lower Colorado River offers up towering canyons of solid rock carved by the Colorado River into a magnificent vista. On board our custom-built pontoon boat, Serenity Now, you will experience the Gorge in comfort and style. 
On this 50-mile round trip, we travel through the Havasu National Wildlife Refuge and into the Gorge where you will see awe-inspiring volcanic rocks and desert wildlife. The refuge protects this part of the Colorado River and Topock Gorge and it is one of the last remaining natural stretches of the lower Colorado River. This excursion is filled with the sights and sounds of nature's morning ritual. There are great photo opportunities for birds and water fowl along with burros and bighorn sheep. We will stop at Picture Rock to see ancient Indian petroglyphs.
As we meander into Topock Gorge, we will witness famous landmarks, such as Mohave Rock, Praying Indian, Devil's Elbow and Stargazer. Our turnaround point is approximately 1/2 mile south of where Interstate 40 crosses the Colorado River and we travel back into the Gorge and we find a beach or over to serve a picnic lunch with fresh fruit, cheese, cold cuts, sandwiches and cookies. This is a beautiful and relaxing excursion.
During our journey, we also have a compilation of classic tunes playing through to enhance the experience.
We offer plenty of complimentary bottled water, but you are more than welcome to bring any other type of beverage, even a small cooler if you like and any other lite snack you prefer. If you plan on drinking wine, please no stemware. We have plastic cups should you need them. If you do need clean ice for any beverages or cocktails just let us know when you check in with us and will provide that for you.
In the winter, we recommend layering clothes, as it does get a little cooler traveling north up through the Gorge this time of year.   We also have heavy warm blankets on board should you need them. The Captain will bring the top with him and you as a group will decide if and when the top is needed, this time of year the sun is welcoming, but we always have shade should you need it.
In the summer, we recommend you dress comfortably with a hat, sunglasses and sunscreen. You can wear swim suits if you like or bring them with you, there is an opportunity to swim during the lunch break. We can put the boat top up for this excursion to keep you out of the direct sunlight and have cool towels to keep you comfortable.
Overview
4 Hours aboard Serenity Now
Witness the Spectacular Beauty of the Badlands
Travel through the Havasu National Wildlife Refuge
Hear the History of the Colorado River Valley
View Landmark Rock Formations
See the Wildlife & Fauna
Visit Picture Rock and See Native American Carvings
Narrated & Compilation of Music
Picnic Lunch Served
Reservations Required
Testimonial
"The scenery is spectacular! The most relaxing day of our trip! A Must Do on Lake Havasu!"   June, Edmonton, Canada
Price
$142.50 per person – Includes Picnic Lunch
Book Tour