Captains
The Sunset Charter & Tour Co. captains are US Coast Guard Certified and, together, have 52 years of combined experience. All of our captains have been long term residents of Lake Havasu City and each has an extensive knowledge of Lake Havasu, Lake Havasu City, the London Bridge and the Colorado River Valley. The captains share a love of the water and the beauty of Lake Havasu.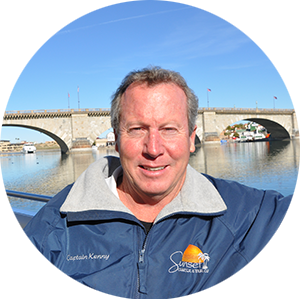 Captain Kenny
Captain Kenny decided to start Sunset Charter & Tour Co. because he wanted to share the natural beauty and history of his beloved Lake Havasu with visitors. Although he lived in California as a child, his family moved to Lake Havasu City in 1976 to run the local bowling center. Prior to managing the family bowling center, Captain Kenny pursued his passion for water skiing, winning competitions for speed skiing and soon was involved in a variety of ski shows. He loves being on the water, saying it gives him a sense of freedom. He became a Licensed Captain in 2007 after attending the Maritime Institute in Southern California. "I love being out on the water, it gives us all a combination of calmness and energy. I love sharing that with people." He has a 100 ton masters license.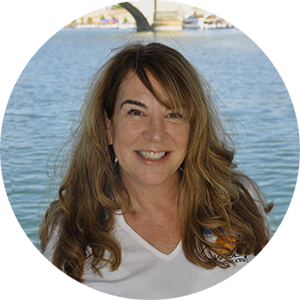 Captain Janene
A native of Michigan, Captain Janene moved to Lake Havasu City when she was 11 so her parents could escape the harsh northern winters. Co-owner of Sunset Charter & Tour Co., she started in the hospitality and casino business working at the London Bridge Resort and the then at Nautical Inn Resort. Her career took her to Las Vegas and Chicago where she was a marketing executive for properties including the Treasure Island Hotel & Casino, Venetian Resort & Casino and Hyatt Gaming. After partnering with Captain Kenny in the business for several years, Captain Janene became a Licensed Captain in 2017 after she decided she also wanted to be at the boat helm to share Lake Havasu with visitors. "Each day there is something new to see or a color I haven't seen before. I love sharing our love of the area." She has a 25 ton masters license.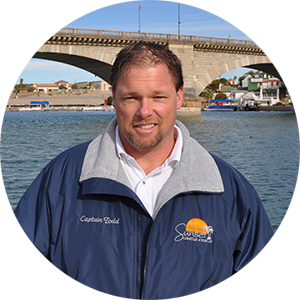 Captain Todd
Hailing from Nebraska, Captain Todd has a love for machines that move. As a young man he was a train engineer for the BNSF Railroad, where he worked for 7 years. After riding the rails, he moved on to boats and started a boat rental company. A love affair brought him to Lake Havasu City and he became a Licensed Captain in 2012. He loves water skiing and jet skiing and running boats. A man of few words, Captain Todd enjoys the interactions with visitors and showing them the beauty of Lake Havasu. He has a 100 ton masters license.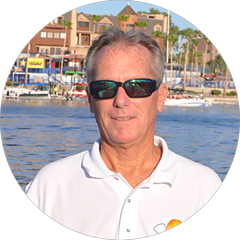 Captain Tim
Captain Tim ended up becoming a captain because of a bet. As a trained vessel engineer and mechanic, he was upset that the captain of the ship he was working on kept scratching the hull. Captain Tim bet he could drive the boats better and it turned out that he could so he became fully licensed in 2005! He viewed Lake Havasu City for the first time by boat when his parents purchased property here in the 1960s and has been in love with the area ever since. "It's really a pleasure to work at a company where everyone is treated like family, employees and guests alike!" He has a 100 ton master license.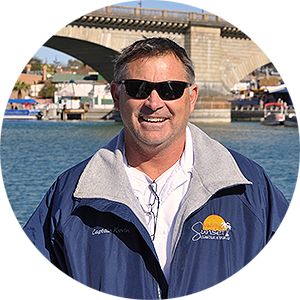 Captain Kevin
A Fire Engineer on the Lake Havasu City Fire Department, Captain Kevin has loved Lake Havasu since the 1980s. He has a great passion for all water sports, especially water skiing. He teaches water skiing and wakeboarding and has medaled many times for slalom skiing and ski jumping at the World Police and Fire Games. He became a Licensed Captain in 1988 after he moved to Lake Havasu City. He loves meeting new people and showing off his backyard to the tourists. "I think Jimmy Buffet said it best, the ocean is my only medication." He has a 100 ton masters license.