Copper Canyon Tour
Copper Canyon is considered the most scenic canyon on Lake Havasu and is the site of the largest producing Copper Mine during the mining era along the Colorado River.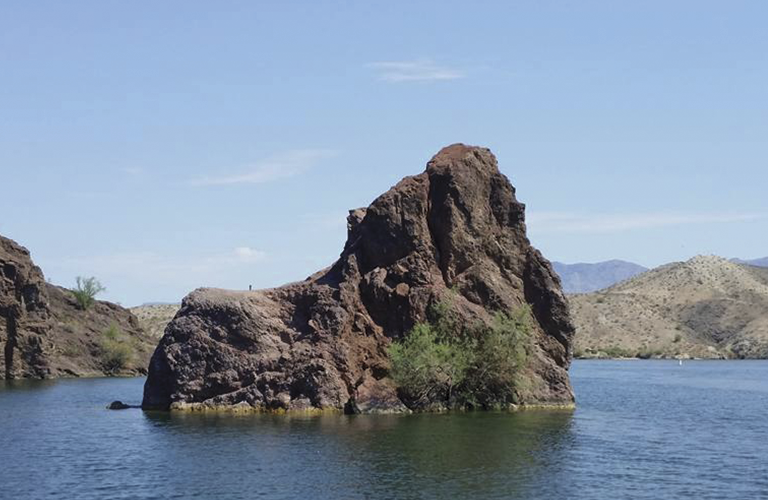 We travel five miles from our Docks at the London Bridge into the South Lake Basin to Copper Canyon.  Copper Canyon is considered the most scenic canyon on Lake Havasu and also is rich in history as it boasts as having the largest producing copper mine along the Colorado River during the mining era in this region.  We will share with you the history of the London Bridge, Lake Havasu City and our Founding Father Robert McCulloch.  All the while we will be in search for wildlife in the area.
We offer plenty of complimentary bottled water, but you are more than welcome to bring any other type of beverage with you and any lite snacks you prefer.
In the winter, we recommend layering clothes, since it can get a bit cooler out on the water.   We also have heavy warm blankets on board should you need them to keep you comfortable.
In summer, we recommend you dress comfortably. The vessel is covered and we will keep you out of the direct sunlight as much as possible, but you should also bring a hat, sunglasses and sunscreen.
Price
$30.00 Adults
$25.00 Child (12 and under)
Winter Schedule: October through May
Daily at 11:30 am
Friday through Tuesday at 1:00 pm
On Days in which we have High Demand, we will add additional Copper Canyon Tours. The added Tour Times will be listed on the Booking Page.
Summer Schedule: June through September
Limited Dates
Check our Book Now Page for availability or Call our Reservations Department at
928-716-8687
Overview
60 Minutes aboard Kon Tiki Canyon Cruiser
 Fully Narrated
Experience the Scenic Beauty of Copper Canyon
Explore the South Lake Basin
Hear the History of Lake Havasu City & the London Bridge
Learn about the Mining Era in the Colorado River Valley
See the Wildlife & Fauna
Great Photo Opportunities
 Reservations Required
Testimonial
"Breathtaking and the truly the best way to see Lake Havasu is on the water!"   ~ Jude, Phoenix, AZ